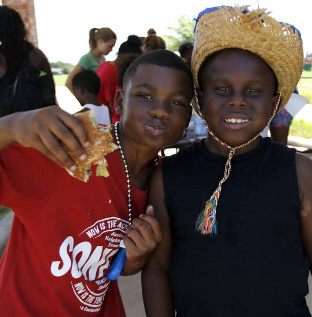 Burgers and Books Fight Childhood Hunger in the Summer
Summer is the hungriest time of year for kids who live in food-insecure homes.  A child's chances of reaching successful, productive adulthood are strongly influenced by their experiences growing up.  If a child goes hungry, suffer homelessness or experienced prolonged stress from economic hardships, their opportunities will be diminished.  Believe, Inc. and Johnnie's Charcoal Broiler have come together to address that problem in Oklahoma County.
We have developed a public-private partnership made up of corporate and community leaders, parents, educators, chefs and concerned citizens to generate the will and skill to feed children for the second summer in a row.  We were able to feed 800 children last summer (2015), and this year we will feed 1600 children.
When we stand together and take action to connect kids to the food they need, we will create a stronger, healthier, smarter Oklahoma County.
Summer can be the hungriest time of year for many children in low-income families.  44.7% of Oklahoma children of color live in poverty; 2 in 5 black children in Oklahoma are disproportionately poor; the hunger experienced during these months can affect a child's academic achievement, brain development and overall health.  Many children who rely on school meals struggle to get enough to eat during the summer months.  It's time to improve the way we feed children when school is out of session.
Most feeding programs operate under a one-size-fits-all and that don't work in many communities.  Transportation challenges, inclement weather and bureaucratic hurdles mean five out of six kids who may need these meals aren't getting them.
We understand the bigger picture, hungry children drag down our city, state and nations economy by perpetuating the cycle of poverty.  When children are missing meals, it affects the brain development and academic achievement, which leads to their inability to focus and learn, which leads to school failure, which ultimately leads to that cycle of poverty that has plague many of them for generations.
Burgers and Books to Fight Childhood Hunger in the Summer is bigger than just burgers, it's about grass root community development and engagement.  It's about RENEWING, REKINDLING, and RECONNECTING the community in a way that truly feed the mind, body and soul.